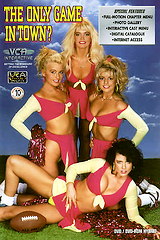 Added: Feb 23, 2010 Views: 242,082
Football and sex - those all-American pasttimes - meet head-to-head in the uproariously erotic send up, The Only Game in Town? Can the badly injured All-Pro quarterback B.D. Cooper ever score again, either on the field or in the sack? Can the oversexed "Surfin' Angels" cheerleaders rouse him to recovery? And his teammates as well? You'll find the answer to these and other important questions in ten relentlessly scorching scenes that will definitely split your uprights! And you don't even need season tickets!
Director: Scotty Fox
Actress: Jeanna Fine Facial , Aja Facial , Madison , Bionca Anal , Angela Summers , Brittany Morgan LezOnly , Tianna , Carolyn Monroe , Missy Warner LezOnly
Actors: Ron Jeremy , Peter North , Mike Horner , Joey Silvera , Randy West , J.B.